Whitepaper: Ensure Secure Student Printing for Higher Education
Download this Whitepaper for free!
Set up your Public Printing Location Today
Provide a Simple and Secure mobile Printing Experience for Students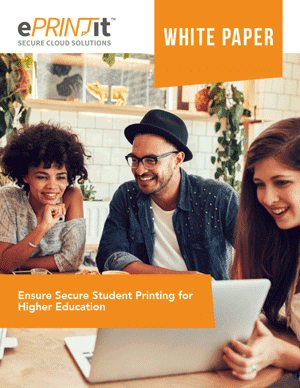 Set Up a Secure Cloud Print Environment for Students
Higher education institutions face many challenges such as security, disparate networks, authentication, print management and student printing. For any educational institution that wants to provide simple, secure mobile printing to students.
This whitepaper explores the technical set up and features of student printing locations for higher education, and details the journey of the print job from the point a student uploads a file to the retrieval of the hard copy document.
Topics covered in this eBook
Don't miss it !
Learn how to set up convenient and ultra-secure public printing in any public location.